If history teaches us anything, it is that it should not be repeated. NASCAR fans go gaga over the constant clashes of Chase Elliott and Kyle Larson. However, this is not the first time that two Hendrick drivers have faced each other on the track. Before Larson and Chase Elliott, two other Hendrick Motorsports teammates, Jimmie Johnson and Jeff Gordon, were involved in some passionate moments on the track.
Johnson and Gordon got involved in their first fight during the 2010 Samsung Mobile 500 race in Texas. The pair made contact on lap 240 as they raced for second place.
ADVERTISING
The article continues below this ad
At the time, the left side of Johnson's car was damaged. The impact of Gordon's vehicle also sent him onto pit road. However, the driver still managed to finish the race in second place. In contrast, Gordon finished 31st after being involved in a shipwreck with Tony Stewart.
Jimmie Johnson and Jeff Gordon's reaction to the incident
As expected, both drivers weren't happy with how things turned out. During the race, a frustrated voice from Jeff Gordon was heard on the radio. Speaking to his crew chief Steve Letarte, Gordon said: "Four times is a little upset. He [expects] be treated differently than everyone else.
DIVE DEEPER
After the run-in, Jimmie Johnson seemed quite upset with his teammate. Speaking about the incident in a post-race interview, he revealed, "He [Gordon] was right on my bumper, pushing me into the center of the turn – I was like, 'Man, I really can't go anywhere if you're here, pushing me; if you just let go of my ass and let me take control of my car, I can speed up. '"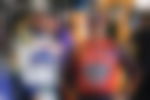 While expressing his disappointment, Johnson said he would try to get to the bottom of it. He expressed his wish to work things out and said there was no point playing him in the press. However, like Kyle Larson and Chase Elliott, the duo did it again. Another collision at Talladega Superspeedway proved that things weren't so "sweetened" between the two teammates.
ADVERTISING
The article continues below this ad
Like Kyle Larson and Chase Elliott, Jeff Gordon and Jimmie Johnson reconnected
On lap 182 of the Talladega race, Gordon made a strong charge under Johnson's No. 48 Chevrolet, and Johnson moved to block at turn three. This forced Johnson's Chevrolet onto the apron while stifling Gordon's momentum.
Soon Gordon was involved in an accident involving several cars. Finishing in 22nd position, Gordon was furious with his teammate's actions. Consequently, he said, « The 48 [Johnson] test my patience, I can tell you. "It takes a lot to drive me crazy, and I'm p**sed right now. When a car is going much faster… I don't know what it's like between him and me right now, but whatever.
ADVERTISING
The article continues below this ad
WATCH THIS STORY: From Kyle Larson to Denny Hamlin: Chase Elliott's Hottest Moments
Much like Johnson and Gordon, Hendrick Motorsports' Kyle Larson and Chase Elliott appear to be in a cold war. The fight between the duo cost Chase Elliott a win in the Watkins Glen NASCAR Cup Series race. However, it's interesting to see how things play out between the two at Daytona International Speedway on August 27, 2022.