"We're tired and we're coming out here because our provincial government continues to treat our education as a privilege when we know it's a right"
Content of the article
University of Calgary drama students boycotted their classes Monday to protest ongoing tuition hikes and budget cuts.
Content of the article
The one-day student strike was part of a larger wave of advocacy for affordable tuition on the U of C campus and across Alberta on Monday.
Drama student Sofia Huarte Aguilar said students in the department held a general assembly on Friday, where they voted to strike.
"We are tired and we are going here because our provincial government continues to treat our education as a privilege when we know it is a right," said Huarte Aguilar.
"We obviously don't want to miss the lessons we've already paid for, but if that's what it takes for the government and university administration to realize that we know our power and are willing and able to close the things, that's what we'll do. We know that the university cannot function without us.
Content of the article
Although drama classes continue on Monday, Huarte Aguilar said organizers are in contact with instructors and department officials. They said the hope is that more student groups will take similar action in the future.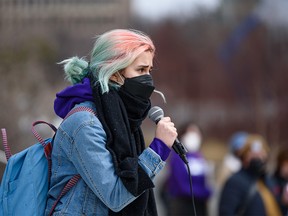 The U of C said in a statement that it supports respectful free speech.
"The university has been transparent with students and the community over the past three years regarding its plans to align tuition with Alberta Tuition Framework requirements," the university said, adding that it had heard student concerns via engagement, including town halls.
"Student feedback helps shape the annual tuition proposal that has ensured tuition rates at UCalgary remain lower, in many cases, than other U15 post-secondary institutions."
Content of the article
Rebeca Dumitru, a second-year theater student, said she felt her department was neglected in relation to scientific and technical disciplines.
"I want the budget to go higher for the arts. I feel like there are so many times we have shows where we can't do things because we don't have the budget," Dumitru said. "I want to see more money invested in this."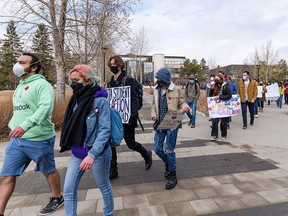 Elsewhere on Monday, U of C students held a rally as part of the provincial "Student Day of Action" campaign, echoing many of the concerns raised by drama students. About 80 people attended the event; students held a similar rally during the fall semester.
Shaziah Jinnah, a recently elected student union leader, was among the speakers at the rally. She said government cuts and rising tuition fees are preventing students from pursuing post-secondary education and criticized the province's decision to tie part of university funding to performance measures.
Content of the article
"We are paying much more for our education than ever before and yet we are getting less," Jinnah said. "We deserve access to knowledge."
The student activism comes in weeks when Alberta's Department of Advanced Education confirmed it had approved several "exceptional" U of C tuition hikes beyond the provincial 7% cap on tuition. fee increases.
These hikes will see domestic engineering students pay around 32% more in tuition fees, while tuition fees for medical and MBA students will increase by around 15% and 25%, respectively.
Overall, tuition at the U of C has risen about 25% over the past three years, according to the school's student union.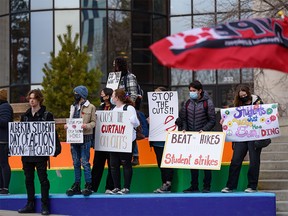 In a statement, Higher Education Minister Demetrios Nicolaides said he had listened to students' concerns and would continue to do so. He mentioned $12 million in scholarships and $15 million in scholarships for low-income students as a government step.
"Over the past few years, we have worked to bring post-secondary education funding in line with that of other provinces and we have made significant progress in this regard and are now providing new investments in post-secondary education," did he declare. The U of C also cited scholarship and scholarship investments in its statement to Postmedia.
— With files from Dylan Short
Twitter: @jasonfherring